Artist of the Month: Karen Vinanzaca
Work is original and creative
Karen Vinanzaca, a junior at BRHS, was selected as Artist of the Month for May by Aimee Cavazzi, the art teacher. Ms. Cavazzi says that Karen's diligence shows in her painting. She also reveals that "her work was original and creative." Not only that but Karen "took the work to the next level."
How long have you been creating art? I've been doing this my whole life here and there.
What inspired/inspires you to create art? I just enjoy creating art and hope to improve.
Are there any artists from the past or today who inspire you? My elementary art teacher inspires me because he helped me and gifted me for my accomplishments and was very talented. 
How does creating art make  you feel?  It makes me feel relaxed and has me dedicated to end up with a nice finish.
Who are your favorite artists? Why?  I don't watch any artists. I usually get my inspiration from online images and it helps me think creatively. My older sister too. When  we were younger, I wanted to draw and paint as well as her. 
When it comes to art, what is your preferred tool? I like to draw in lead pencil because it makes my art work have sharper edges. 
Did you learn how to draw? Or did you just always know how? I think as time went by, I improved. 
What would you say is your general skill range? Sketching. I think I am good at and  painting I'm not so good at.
Is there anything you have trouble with in the world of art? Painting is what I find difficult.
What is something you see other artists do that you dislike? I find paint on top of paint kind of not cool because anyone can do that.
Are you considering pursuing art as a career or would prefer doing  it as a hobby? It's more like a hobby to me.  
What piece of art that you've done, do you like the most? Why do you like it? What is its message? I liked the silhouette because out of all my artwork, I think it's the neatest and I finished on time. 
What's your favorite type of art style? Why? Sketching because it's more fun and less stressful and makes me happy.
What does your drawings/paintings/artwork mean to you? To others? It means to me that I was learning new art styles and challenged myself to make it look good.
Leave a Comment
About the Writer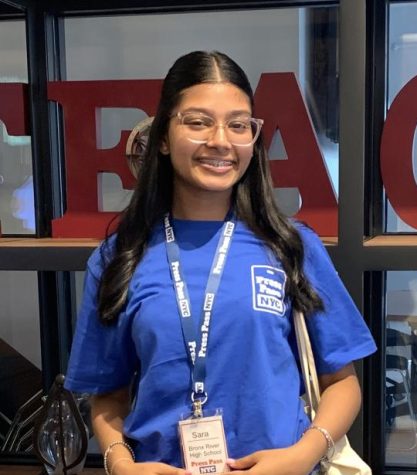 Sara Singh, Editor-in-Chief
Sara Singh, a senior, is part of the NYC Student Press Pass Fellowship program. She has a brother who graduated from BRHS last year.