Bronx River's annual student recognition dinner returns 
Bronx River High School hosted its traditional Student Recognition Dinner after a 3-year-pause due to the COVID-19 pandemic on Feb. 15. Principal Greg Fucheck and assistant principals Tene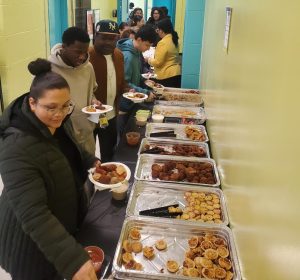 Kelly and Margaret Malloy  welcomed the students and their families into the small cafeteria where guests  took food and then found their tables. Students and families from all four grade levels attended the dinner.  This year's dinner had the highest attendance with over 200 students and families – with a few alumni present as well.
As families settled in and ate at their tables, Mr. Fucheck displayed a presentation with information about Bronx River High School's achievements. After this short presentation, each grade level guidance counselor presented awards to their students. Christina White presented awards to 9th graders and Jovani Almonte gave awards to the 10th graders. Shavon Evelyn presented 11th graders with their awards while Jemny Santana gave awards to 12th graders. 
Some students received honors and some received high honors. Either way, all the students succeeded and deserved this special recognition dinner. As each student's name was announced, the audience applauded and offered congratulations.
Leave a Comment
About the Contributor
Sara Singh, Editor-in-Chief
Sara Singh, a senior, is part of the NYC Student Press Pass Fellowship program. She has a brother who graduated from BRHS last year.