Sports Profile: Victoria Montanez
Senior plans to play lacrosse in college
What sport are you participating in this season? Lacrosse.
How long have you been playing? Two years.
What inspired you to play this sport? My sister played it through her high school year and I wanted to see if I would like it and I do.
What is your position for the team? My position on the team is Attack and Defense.
What is the best part about playing this sport?- The best part about playing this sport is that I play at my speed and I give it my all to help my teammates win games.
What is the most challenging part about participating in the sport? The most challenging part is that you are committed to playing on the field  and  trying to not let my coach and teammates down.
Describe what a typical meet or game is like?  You start in the center of the field trying to get the ball to pass it to your teammates and score a goal.
How do you feel like the season is going so far? This season is going great with new girls playing their hardest to win more games.
How have you improved from last year? Yes, because I played attack last year scoring goals, this year I'm playing defense trying new.
What advice do you have for others who want to participate in this sport? if you want to play don't be afraid but give it your best.
Do you play any others sports? If so, what are they? Which is your favorite? I played soccer in fall since I was a freshman and I liked it because we worked hard to do our best even though we didn't win a lot of games. My favorite is soccer because it's more competitive and keeps me focused.
When you graduate from high school, do you plan to continue playing any sports? Yes, because I learned the difference between how I played lacrosse in high school and how I'll play in college.
Leave a Comment
About the Writer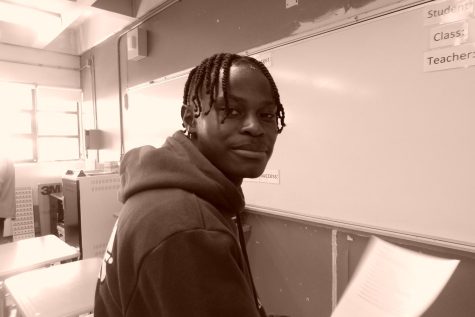 Kadeem Patterson, Sports Reporter
Kadeem, a senior, plays soccer and is on the track team. He also is a member of the art club.