Senior Prom canceled?
Now that the senior year is winding down and all the events we have are starting, our first event, which is prom, is looking like it won't even happen. It was one thing when the pandemic canceled the class of 2020/2021 prom, but now it's just a matter of the students' decisions. And it's understandable that for some students it's about the money. Prom for the senior class of 2022 was free because there was leftover money from the pandemic that paid for it. But now, for the senior class of 2023, it's $170 plus all the other payments for senior dues and activities, which all pile up and cost a lot for some.  Other students, however, don't seem that interested and view the prom as unexciting. Notably, if students wanted to go to prom, the deadline was May, 1st.
To keep the reservation for the prom, the school needs at least 60 paid reservations. Right now, it only has 44. Without 16 more paid reservations, the school will have to cancel the prom, which was originally scheduled for June 8.
A lot of us want prom to happen because some girls have already bought dresses that are not refundable and some boys have even already tailored their suits. And that's not the only reason: We want prom to take place as it'll be the last memorable event we seniors will have all together. 
So many seniors are trying to convince other seniors to go while some have just given up hope. Senior Adriana Sadiku said, "I'm kind of sad about prom possibly being canceled because half of the students have been waiting for prom since freshman year and for them to think they aren't going to have a prom is sad. But hopefully we will."
Jahkyre Wainwrigh is also disappointed. "I feel angry because at first it was 90 percent on Google form going but now people don't want to go," he said. "It's hypocritical."
Monica Harris, who oversees the senior activities, feels "upset and angry because I don't know why seniors are wasting time not paying. Forty-four out of 60 seniors, which is the maximum capacity to fulfill prom, have paid so far and they knew about prom since the first week of school. When we sent out a google survey about attending prom, 90 said yes and not not even half had paid. This is an event you don't want to miss because there are so many events that happen in prom such as giveaways, ice cream bars, photo booths, non-alcoholic cocktail bars, etc. We're trying so hard to make this memorable for all of the seniors but we feel like all of our hard work is going to waste."
Belizza Delacruz, who also helps plan the prom, said,  "We've also paid for the food and candy for prom so we don't want that to go to waste just because the seniors don't want to cooperate."
With all of this happening, this has been the talk of the 2023 senior class and has caused an uproar among staff and students. Again we understand where both sides are coming from, but try to think about the remarkable experience you will gain from having a prom. And if your friends aren't going, oh well they're going to miss the best day of their lives. 
Leave a Comment
About the Writer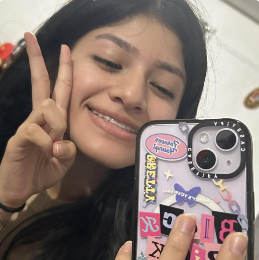 Elvia Serrano, Editor
Elvia Serrano, a senior at Bronx River High School, is an animal lover and hopes to become a veterinarian. She's the youngest in the family and has a dog...