New York Times pays BRHS a visit 
Two editors interact with student journalists on World Press Freedom Day
Journalists Tyson Wheatley and Peter Coy from The New York Times came to Bronx River High School in honor of World Press Freedom Day to share perspectives on journalism with the school news staff on May 3.
Lara Bergen, the founder and director of Press Pass NYC, helped organize New York Times staff visits to schools throughout New York City. "One of the most important parts of that day for me was seeing the New York Times as an organization connect with students here in New York, throughout the city," she said. "Although their title is 'The New York Times,' they've really evolved into a very national news organization, but I think it's important for them to give back to their 'hometown' and for students growing up here to feel seen and heard by them."
She added, "They were amazing to work with and so were all the schools – like Bronx River HS!"
During the meeting, both Mr. Wheatley and Mr. Coy spoke about their experiences as being part of The New York Times. They talked about their personal viewpoints toward their careers, how they each approach news and a highlight they have experienced within their profession.
Members of the Bronx River News staff asked them questions about their careers, and they responded in a helpful and interesting manner. Mr. Coy is passionate when it comes to accuracy in the journalism/news field and explained that it is an essential part of being a journalist and writing in general. Mr. Wheatley noted that he had read one of the school's stories (Christiana James' column on yoga) earlier that morning.
They also asked students about where they get their news (social media and TV were popular answers) and about their career plans.
Senior Abdlrhman Alayah, who photographed the event, said, "It felt normal to take pictures for the New York Times. The only difference was Tyson Wheatley explaining to me better angles of how to take pictures and advised me to get closer when I'm taking pictures."
Want to know more? Read their bios, which they shared before the event.
During February 2020, Mr. Wheatley began a new position at The New York Times as Instagram Director where he guides the team that manages the @nytimes Instagram account and leads the newsroom's Instagram strategy. Looking back, Mr. Wheatley worked at CNN for 11 years before he started at the New York Times. At CNN he was a key player in initiating "CNN iReport." He also oversaw the Hong Kong-based Asia/Pacific staff for CNN.com. After CNN, he spent a year as the San Francisco-based communications manager for Instagram.
Mr. Coy's position is based in the Opinion section of The New York Times, where he covers economics. Three times per week, his newsletter is distributed to readers of The Times. Mr. Coy spent more than 32 years penning articles for BusinessWeek and its successor, Bloomberg BusinessWeek, before beginning work for The New York Times in July 2021. In 1989, Mr. Coy began working for BusinessWeek as its telecoms editor. Prior to being named economics editor in 2001, he was appointed technology editor in 1992 and associate economics editor in 1997. Mr. Coy joined BusinessWeek after working as a business news reporter for the Associated Press in New York City since 1985. Mr. Coy had previously worked as a correspondent for the AP Rochester bureau.  As an editor in the Albany bureau, he started working for the AP in 1980.  Mr. Coy had also previously worked as a reporter for the Republican-American newspaper in Waterbury, Conn. Mr. Coy graduated from Cornell University with a B.A. in history.
Leave a Comment
About the Writer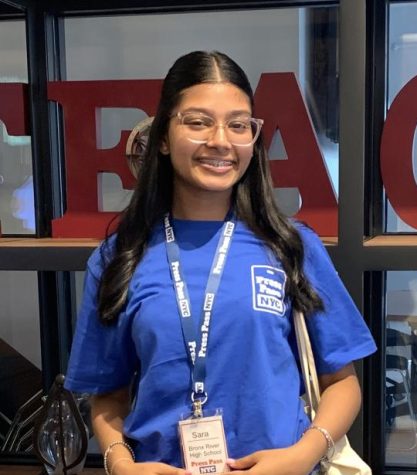 Sara Singh, Editor-in-Chief
Sara Singh, a senior, is part of the NYC Student Press Pass Fellowship program. She has a brother who graduated from BRHS last year.