The miracles of yoga
Students can take yoga as a physical education class
Many people have heard of the word yoga but do not really know what it means or what it is. Similar to gym or fitness like weight lifting, yoga is a physical practice that involves the use of the mind, body, focus and breath. The word yoga comes from the Sanskrit word York or yuk, which means to link, connect or join with.
People often get stressed out when they are carrying their day to day activities and need that break for their mental and physical health. In this case yoga is the best option as it gives you that space to clear your mind, maintain calmness and forget about your worries. It also increases your flexibility, cardio health and breath control. Research from art and culture explains that yoga started about 5,000 years ago and originated in India and is one of the philosophies of Hinduism. 
Bronx River High School has a yoga session for students as a gym class and is led by Aimee Cavazzi, who is also an art teacher. She is really the best fit because she works well with her emotions and is so calm and determined.
 "I started doing yoga in 2011 after I moved into an apartment that was directly next door to a yoga studio," Ms. Cavazzi said. "I found that it really helped me manage my stress levels as a working parent. After four years of regular practice, I decided to go to a yoga teacher training program in Costa Rica in the summer of 2015. After I was hired at BRHS, I proposed to teach a yoga class and Mr. Fucheck agreed. I've been very grateful for the opportunity to teach yoga here at Bronx River High School."
Some staff members in the school also take part in yoga during their leisure time or as their routine.  Dennis Lucid, a government/economics teacher, shares, "It's given me a chance to increase my levels of focus, improve my breathing ability, and the gift of harmonizing my body and mind."
I am a student of Ms. Cavazzi's yoga class and I really feel relieved after each yoga session. This is my second year in yoga and it has been great. From meditation to core work and stretches, all the yoga moves come with great benefits. As a high school senior, I have a lot going, such as keeping my grades up, applying to schools and making decisions, all of which is stressful.  In general, I find myself stressing over a lot of things, even little stuff, and yoga is a good way for me to reduce the level of stress.  
Students who take yoga as a class also shared their experience. Kelly Ramirez, a junior, shared "My experience in yoga has been really good because I got to connect with myself and be able to understand my body. In the future I would like to keep on going to yoga."
Donashia Taylor, a senior who has taken this class for two years, also shared, " It's sometimes relaxing when under stress but it is really a lot of work. I usually make deep sighs LOL. Yoga is not just meditation, it contains core work, balance, use of energy and others."
If even overwhelmed or tired that you need a break, a go-to option can be yoga, which is really great for human health because your health matters most. Namaste!
View Comments(1)
About the Writer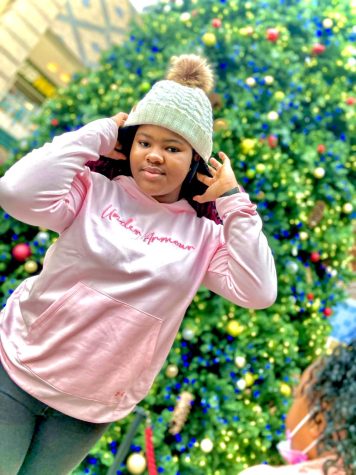 Christiana James, Staff Writer
Christiana James is a senior at Bronx River High School. She loves to watch movies at her leisure time and is a PGC leader.