Sports Profile: Nevaeh Feliciano
Family inspired love of softball
What sport are you playing this season?
Softball.
How long have you been playing?
3 years.
What inspired you to play this sport?
My cousin inspired me because she went and played for this school before I did, and my uncle always inspired me to play the sport.
What is your position on the team?
 Any in field & left field.
What is the best part about playing this sport?
My teammates are the best part because you can make new friendships.
What is the most challenging part about participating in the sport?
The coaches because they sometimes ask to much from us and they say two different things that get us confused.
Describe a typical meet or game is like. 
Overwhelming because sometimes there is a lot of pressure in the game.
What was your team record last year?
12-2.
How do you feel like the season is going so far? 
A little rough because we're not all working as a team.
How have you improved from last year? 
I improved by playing more than one position.
What advice do you have for others who want to participate in this sport?
Take this sport seriously because it's a challenge sport and going to the playoffs is very exciting.
What are you and your team goals for the season?
My team goals are to make it to the second round of the playoffs because last year everyone wasn't motivated to play.
Do you play any other sports and which one is your favorite? 
The sports I play are softball and volleyball. Softball is my favorite sport because it's more active.
When you graduate from high school do you plan to continue to play sports?
Yes I do plan to play sports because it's just fun to play and I've been playing sports all my life and if i stop I'll be bored.
Leave a Comment
About the Writer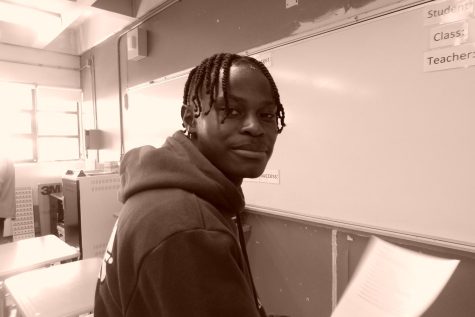 Kadeem Patterson, Sports Reporter
Kadeem, a senior, plays soccer and is on the track team. He also is a member of the art club.