Students share insights with Bronx principals
Three members of the Bronx River News spoke at a panel discussion on Student Voices at Superintendent Fia Davis' Principal Meeting for District 8 in the Bronx on Feb. 7.  Seniors Sara Singh, Chris Montanez and Kadeem Patterson, along with advisor Deborah Porterfield, explained how the newspaper empowers students. Two other schools, the Academy of Scholarship & Entrepreneurship and Renaissance High School for Musical Theater & Technology, also participated in the discussion at the Morris Yacht & Beach Club on City Island.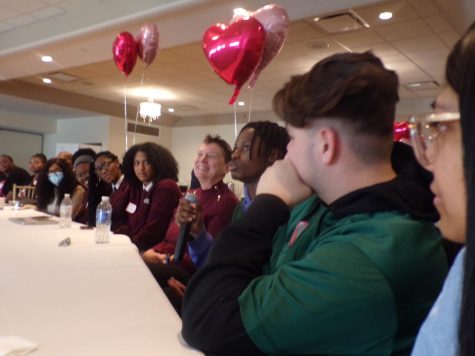 Amallia Orman, Student Voice Manager for NYC's Department of Education, encouraged panelists  to explain how their schools' programs encourage student voice. The audience consisted of district leaders and about 40 principals, including BRHS principal Greg Fucheck.
Students from the Academy school said a lesson on labor unions inspired them to create a student union that advocates for students. Renaissance, which is also on the Lehman Campus with BRHS, performed a skit that showcased the need for communication between students and parents.
BRHS participants explained the different ways the newspapers give students a voice.  Kadeem said the paper empowers athletes by showcasing their achievements and received cheers when he mentioned the campus' undefeated boy's basketball team. He also showcased students' personal statements and artwork inspired by artist Jean-Michel Basquiat.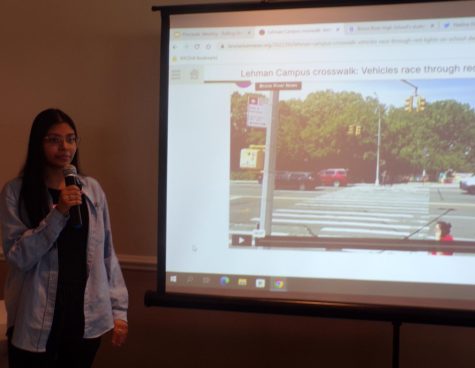 Sara, the editor-chief, talked about the paper's  investigation that recorded vehicles running red lights in the school's main crosswalk.
Ms. Porterfield said the paper gives students a chance to share celebrations, such as Town Hall assemblies and Spirit Days, and to also process grief. When a beloved teacher died unexpectedly last March, the paper published a news story that very day, she explained. The next day, it published tributes from students expressing their admiration and love for their teacher, David Ollivierre.
"Nearly a year later, that story continues to be one of the most read stories each week," she said.
Chris added that the newspaper plans to cover the school's annual basketball tournament, which will be in Mr. Ollivierre's honor. Last year, Mr. Ollivierre coached the 11th grade team to victory. This year, the team, which is now in 12th grade, wants to win the tournament for him, said Chris as he choked back tears. The audience responded with encouraging claps and cheers.
Chris said he appreciated the opportunity to speak but wished participants had more time. "I feel like we should've gone into more detail about our stories and why they're so important to us," he said.
Ms. Orman, who organized the event, found the discussions meaningful because "there were three different schools coming together but everyone was doing something a little different so it showed uniqueness, diversity and different school communities. It's really about how you can bring out the student voice, youth leadership and support it in any aspect of school. I think that is what you all symbolized up there today. I thought it was different and special to have youth and adults on the same panel talking about their partnership."
She also appreciated Ms. Davis giving principals at the conference a chance to hear directly from students.  "They (the principals) are all leading schools and hopefully they are hearing ideas they can take with them."
Staff Writer Gabriel Ulbano contributed to this report.
Leave a Comment
About the Contributor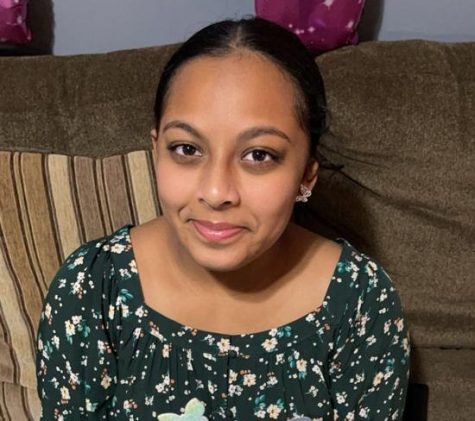 Aliyah Ali, Staff Writer
Aliyah Ali is the oldest of three younger siblings. She loves to write, read, sketch and create music.