An interview starring Mr. Fucheck
This fall, principal Greg Fucheck agreed to be interviewed regarding his role at BRHS. Being the passionate, loquacious principal we all know and love, he was more than willing to share his thoughts.
Q: What made you choose to be a principal in the first place?
A. "That's a tough story. I was a math teacher, and my previous principal had opened his school, and then New York City Department of Education was looking to open more new schools, so he gave them my name, and the Office of New Schools called me and asked me if I could open up my own school. I was nervous, and I thought it could be a new challenge."
Q: Are you happy with your job as a principal right now? Why? 
A: "I am extremely happy because even though this is my 18th year in education, I had a bunch of different jobs before becoming a teacher, and I can truly say now that I am truly doing what I was meant to do, and I did not feel that way before."
Q: Were there any jobs that you worked before you worked as a principal?
A:  "Yes! I worked in advertising for Macy's, I worked in marketing for Verizon, and I worked at a technology company that was the first company to integrate GPS into handheld devices."
(For more information on this, check out this link: https://www.nytimes.com/2001/10/25/technology/gps-aids-investigators-at-attack-site.html)
Q: Is there anything that stresses you out with your position? 
A:  "All day, every day. Emotionally, the difficulties such as trying to make sure that all my staff and all my students are emotionally safe, because in education as staff members and as students it's one of the most stressful times in our lives."
Q: What are the advantages of being a principal? 
A: "Being able to design our school program the way that I want to, my decision along with Ms. Malloy, Ms. Kelly, and our instructional leadership team. Having a direct impact on student lives."
Q: What are the disadvantages to being a principal?
A: "When I see students not being treated the way I want them treated, and feeling that frustration in them."
Q: Do you think teachers have an easier time doing their job than a principal? 
A: "No. I think teachers have a harder job because I think the most important role in education is what teachers do in their classroom; it has the biggest effect on children, and it's not easy dealing with 25 children in a classroom at once."
Q: Is being a principal any fun, and if so, why? 
A:  "Yes, it's a lot of fun, because I enjoy working with and supporting my students, I feel like a social worker more than a principal, but the best part of my day is trying to help students feel better about themselves and their life.
Q: Would you ever switch to a different school if you could? 
A: "No, I will be at Bronx River until I retire."
Q: In your opinion, what's the best thing about being a principal? 
A: "Having control over our school and being able to make decisions and implement them."
Q: Have you been a principal of other schools besides Bronx River? 
A: "No. I have only been a principal for Bronx River."
Q: Is there a favorite memory from your years of being a principal in Bronx River High School? 
A: "Our first Thanksgiving celebration the first year."
Q: For anyone aspiring to be a principal, what is your salary?
A: "$189,00"
Q: "If you have any, would you enroll your children into this school?" 
A: "Yes."
View Comments (2)
About the Writer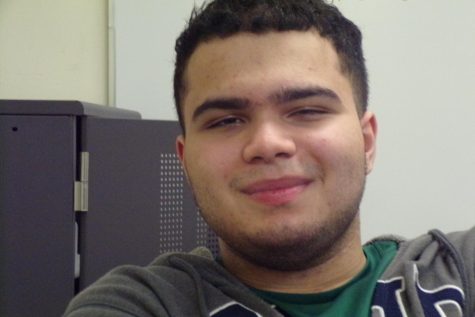 Gabriel Ulbano, Staff Writer
Gabriel Ulbano is a senior at Bronx River High School.