The PGC-HS Overnight Trip makes a comeback after 3 years
Hearing "overnight trip" tends to give you mixed emotions and feelings. Whether you have been on an overnight trip or not, they are a lot of fun – especially with your school.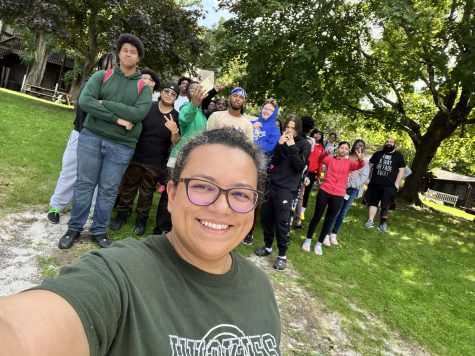 This past summer, in June, many juniors and seniors interviewed to be a PGC leader for this school year 2022-2023. PGC stands for "Peer Group Connection." In PGC, 11th and 12th graders take on the responsibility of being a mentor and role model to the 9th graders who are new to the school.  The chosen leaders are required to pair up with another co-leader and perform activities with their freshmen group.  Peer leaders are here to guide the freshmen, make connections with them and assist them with the transition to high school. Almost like a class with students and teachers, except smaller groups.  To be a PGC leader, members also had to take part in the overnight trip. Here's what it was like:
Our first PGC class was on the first day of school, Thursday September 8th. We talked more and more about this big trip every class until that day came, which was September 13.   It was a 2 day/1 night retreat. On Tuesday morning,  we departed from Bronx River High School a little after 9:00 am. Everybody had their bags fully packed and we each fell asleep during the bus ride. We made it to Ramapo Camp in Upstate New York around noon. We entered our lodge and set our bags down then made our way to the dining hall to eat.
After we ate, we went back to the lodge and we made a huge circle with our chairs to do a few icebreakers. We talked and introduced ourselves and played games such as "I like everybody who…"  After a few activities, our camp director took us rock climbing and most of us completed it. It was harder than it looked. We were all sweaty and got trapped in the rain when it was time to leave, so we had to make a run back to the lodge.
When we came back, we settled down again and completed more activities with each other and our advisors. Later that night we ate dinner and then made our way to our bonfire as a team. We roasted our marshmallows, made smores, answered riddles, told stories and laughed together. We came back, once again, and did a couple more activities and then we finally got to freshen up, take showers and call it a night. Some of us barely got any sleep 🙂 – all worth it, though! 
The next morning we woke up around 7:45 am and started our day by eating breakfast. This day was the day we officially chose our PGC co-leader[s] for the school year. After breakfast, we did more activities within our team and then came time to converse and figure out who we wanted our partners to be. Eventually we figured out our choice of partners and then we interviewed each other. We shared out to others and also answered more questions within our circle. Later that day we made it back to the school. 
Participants found the retreat worthwhile: Rinaldo Castillo believes that he had had fun on this trip and that a benefit was to further evolve relationships with the people we didn't know. Junior Christi Cisse added, "I enjoyed the trip because I got to spend extended time with my classmates and spend time away from school." Dylan Maloney, a junior, thinks that the trip was fun as well and he liked getting to know everyone better.  Junior Azzurede Strong agreed, saying "It was fun to be around people I have never been around before."
Overall,  this overnight retreat proved fun and worth the experience. Participants came to the conclusion that members created a safe and new connections with each other. and reached the goal of team building and community. The team will share their insights with the freshman for the first meeting of the year on Oct. 19.
Note: Sara Singh is a member of the PGC leadership team. 
View Comments(1)
About the Contributor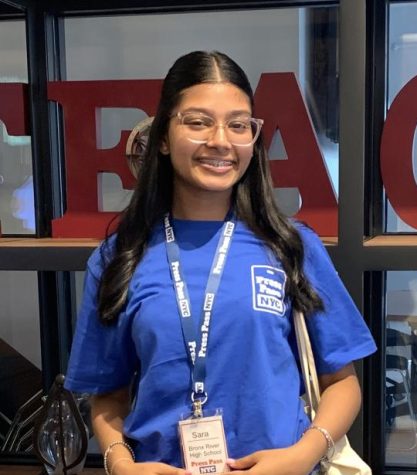 Sara Singh, Editor-in-Chief
Sara Singh, a senior, is part of the NYC Student Press Pass Fellowship program. She has a brother who graduated from BRHS last year.