Students pay tribute to a beloved teacher
Remembering Mr. Ollivierre's words of wisdom, acts of kindness and positive energy.
Alexty Perez: Coming in as a sophomore into a new school wasn't the easiest situation for me and was very difficult to adjust to. From the moment I stepped foot into this school, Mr. O was in my corner, praising the work I do and the efforts I make to be the best I can be. Often times, he would stop me in the halls or pull me aside in order to simply remind me that I have endless potential and there's nothing that I couldn't do. Sometime ago, earlier this year, he stopped to tell me he had seen someone on TV who truly reminded him of me and told me one day that could be me. He reminded me of the potential he saw in me and told me, that one day, I'll be able to make it big enough to where I'll be on TV as well. It's something I've carried on my conscious throughout this school year so far and is one of main reasons why I continue to strive to be the best version of myself. Mr. O undeniably was one of the purest souls within our school community and has left a legacy within the Bronx River community that will not be forgotten by us students. The man truly was one of kind and words will not be able to explain how grateful I am to have crossed paths with him where a young adult like myself needed a figure of guidance. Until we meet again Mr. O, may he rest easy.
Forida Parvin: Mr. O: You were wonderful inside and outside. You always helped  me out with my work. You always made sure that I fully understand. Every morning you would come to us and say hello, do the handshake, make funny jokes and make the morning the happiest. You are the best teacher I had in all my 4 years in BRHS. You are always cheerful and make people smile in any sad moment. Every moment I had with you is the happiest moment and I will never forget those little moments we had together. I couldn't believe you are not with us anymore but you will always be in my prayers. I will never forget you Mr. O. I will always miss you. Rest in peace Mr. O. I will always love you in my heart.
Kristia Lawson: A memory that I have with Mr. O: We were in the gym early in the morning practicing for the basketball tournament. He was being very supportive and inclusive with the drills. He didn't treat me any differently because I am a girl. Even when he found out that I wasn't participating anymore, he still supported me.
11th Grade Student: I will never forget our good conversations. He got me cake from the break room and told me not to say anything. Cool dude.
Farid Nasir: Mr. O was a top tier teacher. He always wanted to help you if you were confused or even if you were having a bad day, he could lighten it up. Mr. O was never angry with a student. He never raised his voice. He was always a true example of an educated black man. Mr. O will always be in our hearts forever.
Osvaldo Rojas: Mr. O was always open to new things like when I told him about my family's indigenous language. He would ask questions and be intrigued so that he would stay in our memories.
10th Grade Student: When I was Mr. O's student in 9th grade, I was an AWFUL STUDENT. I did nothing and did not do my work. But Mr. O constantly believed in me and he never gave up. It worked too. He never gave up on me and it hurts me knowing that such a great teacher isn't with us anymore.
Talik Malanes: You will be missed Mr. O but never fogotten. You were such a great person. Thank you so much for allt hose great conversations. Rest in Peace, Mr. O.
10th Grade Student: Mr. O was always positive everytime I saw him, whether it was Global or outside Global, he would either be helping someone out or just being chill. It's truly a shame that he's gone and I hope we can remember the legacy he left behind. Rest in peace, Mr. O.
Adryan Valdez: Dear Mr. O: You were the nicest teacher every. You always helped us even when we were confused with the work. You were positive about everything. Thank you for everything.
Blair Misir: Thank you Mr. O for teaching me. History was always my passion. It was an honor to meet a teacher like you. When I heard the news about you, it hurt me in a way that I can't imagine. You always told the class, that this too shall pass: No matter how hard life goes, you keep going forward.  That encouraged me to have a passion about books. You told me that I will have a good life. RIP Mr. O. You will never be forgotten. Much love to your family.
Anjelee Perez: RIP Mr. O. You were the best teacher I have. You will be missed.
"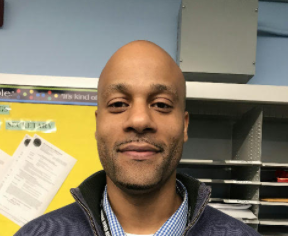 You are never on time. You are either early or late.
— Mr. Ollivierre
Gabriel Gallardo: Thank you Mr. Ollivierre. There are so many things I wish I could have said to you. Like even say something as simple, as thank you. You're one of the teachers that really cared about me even when I was going through a hard time. You were still there for me and never once did I say thank you. I also never said thank you when you put me on the Broadway trip – hands-down one of the best trips of my life. It only made me more inspired to be an actor.
You weren't my favorite class but the things that you were teaching how you were teaching, it really showed that you cared about what you were doing and you wanted us to learn and it's easy to see your passion for history. Thank you Mr. O. You have been the best inspiration for history. It's absolutely certain that I will never forget you.
Mychael Daniels: Mr. O: You were always my favorite teacher.  I wish I can say my last goodbye. You always were there for me when I needed you. Why did you have to leave so soon? You were like a best friend to me. When I heard that you passed away I cried. God bless you and your family.
Mahfujur Rahman: THE GREAT MR. O: A great man is one who leaves others at a loss when he is gone and for years the light he leaves behind shines a path for everyone in the Bronx River family. There is not a single day he met me and didn't say "Nice to see you, Mahfuj." I can never forget these words and their impact.  Mr. O's premature death shocked us and left the Bronx River family reeling from the loss of his affection, but we will never forget our greatest teacher ever. He was always loving and caring to his students; he will always be in our hearts forever.  Goodbye O great. 
Sultana Akther: Mister O was a wonderful human being. Mister Ollivierre's death impacted my life very badly. I couldn't believe that he was gone. He inspired me to choose my career in computer science. He was so kind, caring, and helpful. Whenever I needed his help, he always helped me. He was always there for me. He was an unforgettable person. One thing I learned from him is to always be positive and deal with problems with a smile. He was the best and one of my favorite teachers. I believe that he is among us, seeing us. He is always with us. We love you, Mr. O. You will always be remembered and my prayer is always with you and your family. R.I.P
Damian Nichols: Long Live the King Mr. Forzo  (Mr. O): Hey i just want to say that I'm gong to miss you but you were a kind person with a kind soul.  You always made people's days with your jokes but if someone was feeling down you'd always go out of your way to make them feel better; no matter what you tried you're best.  You are a really nice guy deep down and I know that you told me that I was one of your best students, that I always made your day or made you laugh…..On the day I graduate I'm going to  look in the sky and say I made it Mr. O, aka Mr. Forzo.
View Comments(1)