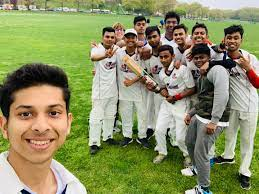 Sports Profile: Jahmid Ahmed reflects on playing Cricket
How long have you been playing? I started from freshman year but didn't play the last two year for the COVID-19.
What is your position on the team? My position is 3rd place ( 3rd number).
Do you have a leadership role on the team? If so, what? Yes, this year I have the leadership on my team and I am the Captain.
Why did you choose to play this sport? I choose to play Cricket because it's helped me to maintain my physical health benefits and also I am addicted to that from my childhood.
What is the best part about playing this sport? The best part is about Cricket when we won the match where I gave my best for my mates who were happy for it.
What is the most challenging part about participating in the sport? The most challenging part about Cricket is that when the balls come from air after the batter hits where we have to catch the ball and the risk is that we can get hurt if we don't catch it.
Describe what the game is like? This game is mostly like baseball where you have to hit the ball and run.
What is your team record? Your individual records (if any)? My team record is that we won a match where we made low scores but at the end of the day we won after all our hard work. My individual score for my team was 28 runs which was the highest on that day of the match.
What advice do you have for others who want to participate in this sport? I will advise them if we guys want to just come and join us. We're gonna play a  friendly game where we're going to enjoy it all the time while we play.