Alsergio Mejia wins first place, qualifies for tournament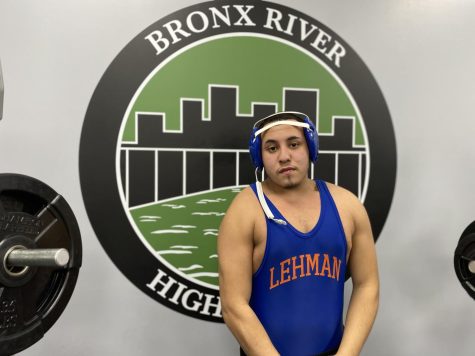 On Saturday, Dec. 18, the Lehman Lions hosted a wrestling tournament and a Bronx student walked away a winner.
Congratulations to Alsergio Mejia, a senior who won first place in his 189 weight class.
Alsergio, also known as Sergio, was thrilled to win. "It felt amazing," said Sergio. "A rush of adrenaline hit me all at once. In the match,  I let go a little scream because I was in the moment."
He added,  "I won a medal and the respect of my peers. But in reality the experience is what matters the most."
Sergio said he initially joined the wrestling team as a way to to express himself and take part in a physical activity. But now, he said, "Wrestling has become a lifestyle and a part of me."
Since that big win, he has continued to perform well and has been invited to compete in the Mayor's Cup, which is competing against the best in NYC.  He will be joined by fellow teammates, Steven Contrares, a 12th grade from WSA and Philip Santiago, a 10th grade from RHS.
What advice does he have for students who might want to join the team at some point?
"My advice is to never give up, even when you feel that you can't do it anymore. Keep trying because it's just a small obstacle leading to a bigger goal."
View Comments (2)