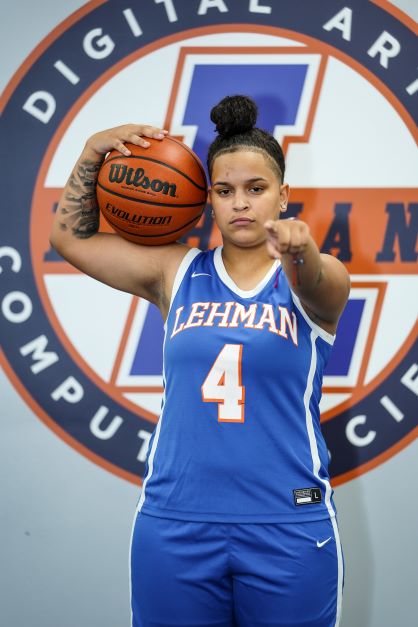 Sports Profile: Danielle Hernandez
Love of game, teamwork make for successful season

What sport do you play?

Basketball.
How long have you been playing?

Since I was 8.
What is your position on the team?  Point guard.
Why did you choose to play this sport?

Basketball was more of something I was raised into and as time passed, I grew more and more love for it. It was something I just wanted to do, had to do.
What is the best part about playing this sport? The best part about basketball is probably the lessons I take away from it. Lessons I learned on the court, most of them can be applied to life in general, on and off the court. Apart from that, the energy and competitiveness you feel on the court, it's amazing."

What is the most challenging part about participating in the sport?

The most challenging thing about participating in this sport has to be the discipline required to play and having a certain trust or connection with your teammates. Basketball isn't an individual sport when it comes down to the end. All 5 players on the court are needed to communicate and perform well. You can only do so much by yourself.



Describe what a typical meet or game is like:  Gameday always starts at 4:30; once the clock hits 3:30, I'm usually already dressed. I stop goofing around in the locker room, head to the gym to start throwing up shots. Blast music to really get focused and into that mood to really get ready to play. At 4 we warm up and at 4:30 it's time to play.

What is your team record?  As of Jan. 28, we are 9-2 and hoping to end the season 13-2. 
What advice do you have for others who want to participate in this sport?

The best advice I can give to someone who wants to play is stay confident in yourself and your abilities. But also have passion and a work ethic when it comes to the game. Nothing comes easy, especially on the court. Don't ever think what you're doing is enough; there's always improvement to be made, ways to be greater on and off the court . Just always remain committed and disciplined. Everything will fall into place on its own.
When you graduate from high school, do you plan to continue playing this sport? If so, explain.

Sadly I don't really know if I'm playing the sport after high school. But I do plan to stay involved around the sport as I decided to major in sports management in college. Only time will tell but my love for the sport will never fade.