Game Club members play for fun, compete in tournaments
Members of the BRHS Game Club are playing for fun and even competing in tournaments this year. Mr. Nelson, a co-advisor for the club, says Game Club is where students can come and play video games or board games or be involved in competitive esports game. Right now, the club is playing in the Rocket league.  As of Nov. 17, the team was 1-2 but Mr. Nelson is confident  the team can turn the season around. "They are currently working on improving team communication, kickoffs and defensive rotation. Every match that they have have participated in, you can see an improvement," he says.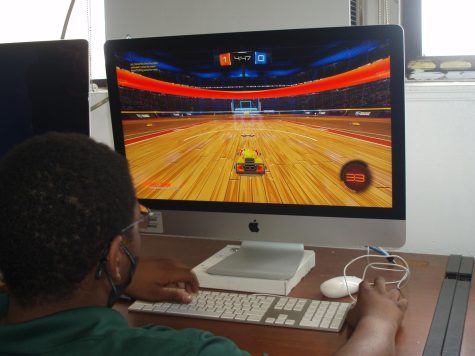 Jordan Damally, a member of the club, says he likes having a chance to meet people and play video games. During the meetings, he drafts esports games and enjoys playing Super Smash Bros. for fun.
The BRHS Gamers Club was founded in 2018 with a small group of students in Ms. Paes' class.
" The driving force behind the establishment of the club was to create a space for students from all different backgrounds and abilities to come together as one with a focus on gaming," explained Ms. Paes, a co-advisor for the club. "Gaming is the greatest unifier. Whether it's sitting on a table to play a tabletop game, or on a couch with friends or classmates, that time spent together is a time where students can put aside all of their stressors and worries and have fun."
Paes credits Mr.Nelson, who joined Gamers Club in 2021, for helping expand the ESports division of the club and creating Tournaments for games such as Rocket League and Apex Legends.
 "If you're looking for a place to hang out, play games, relax and compete in a fun atmosphere here. Game Club is for you and it's open to anybody," says Mr. Nelson.